I hate sharing computers. Like most families, we started with just one that everybody used. It was a pain to compete with everybody in the house for computer time. Thankfully, now I have my own computer AND laptop. Unfortunately, the other members of my household are still kinda sharing the same family computer even though they own their own laptops. It's like the family server, hosting everybody's files, settings, programs, and profiles. Fortunately, there is a way to come across this family time-sharing dilemma. The only requirement is Windows XP Professional.


Remote Desktop Protocol (RDP)
Remote Desktop is an amazing feature that comes with XP Pro. However, its concept is not so groundbreaking with Linux and Unix users. They've always had remote terminal consoles and X Windows sessions. But with Windows neophytes, we're drawn to this feature like bugs to a light source. The RDP (Remote Desktop Protocol) allows any user to access his or her computer remotely as if he or she was there. For example, pretend I'm in Tokyo on a business trip and I need to access some old emails in my Mozilla Thunderbird at home. Not a problem. Assuming that I enabled it before I left, I fire up the Remote Desktop Connection Manager. Then, I input my home's static IP address and my Windows login. In the end, I see my home desktop screen in my business laptop screen on the other side of the world.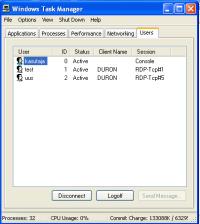 Multiple Logins
How does this apply to family time-sharing? Well, if everybody has their own username, they can access their account on the home server simultaneously on different computers! That means dad can be on the family computer. If mom needs to access her pictures, she just needs to use my laptop to remotely log on with RDP. If sister needs her playlist, she can use her computer to logon as well. Basically, the home computer RDP will be managing two different screens for mom and sister, while dad is working on the home computer itself! It's like a home thin-client network!
Terminal Services Hack
There is just one problem. Unfortunately, the Microsoft Windows XP Professional RDP limits the number of users logged in to one. Two people cannot be logged on at the same time even if it includes just a physical, local-console login and a remote login. It has to be one or the other and only one at a time. It is so characteristic for Microsoft to do this! There was a time when Microsoft did allow more than 1 user logged on at the same time. I'm not sure if it was with Windows 2000, 2003, or XP Pro pre-SP2. But, it was only a matter of time before somebody hacked the protocol and opened up the disabled feature. Two great explanations on how it works and how to manually enable this feature can be found at Concurrent Remote Desktop Sessions in Windows XP SP2 in Sig9 and Ricky's Web Review – Windows XP Multiuser Remote Desktop. Someone made it even easier by automating the process in a simple installation file that works just as well.
Caution
Multiple users logged on at the same time will tax computer's resources heavily. This will result in slower performance! I only recommend doing this on a home server with at least 1GB of RAM and a fast processor (or a dual-core processor).
Update: I believe there is also a way to do this on Windows Visa. Read this article from missing remote.
---