I'm doing finals. So in the meantime, here's my sister, Midori Lei from Dating Advice from a Girl. Take it away!
Yes, I know you're used to tech savvy articles on this blog. That genius guy, my brother, is taking the week off. So today, I'm visiting your side of the blogosphere to give you the dirt on that not-so-easy to understand subject, women. I figure you guys already know so much about the inside world of using computers. And although it might be up there on your list of pleasurable activities, I'm sure being with a woman is up there too. If you're already coupled or happily dating, this article is not for you.
If you think you're going to be alone this holiday tinkering on your computer or playing at a remote Halo LAN party, it doesn't have to be that way. Heck, maybe you could even bring her to your bash!
Follow these tips and you'll be sure to land yourself under the mistletoe this year.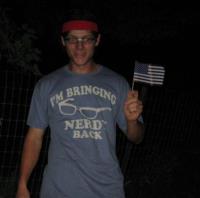 Meet my favorite online nerd: (next to my brother, of course)
Lance, the Eco-Warrior who goes by
LoonyK
in the blogosphere.
I Can't Say It Enough: Confidence Will Get You Places
First things first. If you haven't noticed, nerds are HOT right now. With the arrival of the Internet and everyone owning a laptop, it's nice to have a guy around who knows all the technical stuff. Being a creative type, I have no patience for all the things you hackers love. Left-brained men are the perfect matches for us right-brained women. You have to monopolize on this. What I mean is that you need to own this part of yourself.My best friend wasn't into this guy, until he started waving his nerd flag! I'm serious. He put down the masquerade, even got rid of his contacts and started wearing his glasses, and now she can't get enough of him.

Women want men who own up to who they are, regardless of who's looking. That kind of confidence is hot. There are actually women who are looking for nerds. You are some woman's "type!"

Why Hackers Are Hot: Hackers are a step up from your typical nerd variety. They're like the Internet James Bond. You know why James Bond is a British icon who always gets the women? Because he's in a field where he knows things that not everybody else knows. Being in the know when other people are ignorant is HOT. That's James Bond for 'ya. Sound familiar?Plus, he knows his way around a gadget. Hackers are hot because they know stuff that the average Joe doesn't have a clue about. And they sure know their way around the handiest gadget of the 21st century, the computer.

Of course, James Bond is the good guy. That's why Hackers are the James Bonds of the Internet. Remember, the guys who get the girls aren't necessarily the best-looking ones or the ones with the most charm and talent. They are the ones who know they have a good thing going for them and are confident enough to approach many women.

Note: If you are lacking in the confidence department, have been rejected too many times, or simply don't feel that you can exude this kind of confidence, email me so I can help you out and give you some encouragement. We can examine why you feel this way, and see what needs to change. I will be honest and kind, I promise.
Humility Rocks Our Socks
Most men are actually proud and insecure. You know what stands out? Confidence marked by humility. There's a very distinct and delicate difference. Just because you know a lot of cool insider things like the Maven from "The Tipping Point," we don't need to find out about them all in one sitting. If you're interested in a girl, don't try to be interesting, instead, show that you are interested. Ask her questions. If you're the one answering all the questions, that's your cue to turn the tables. You don't want her to leave your presence thinking, "Wow, he's really into himself," because that's what she'll be thinking if she's the only one asking questions. You can read about best questions to ask on a date.
Make the initial contact. The surest action that proves this desirable trait of confidence and humility is when a guy makes the initial contact. It proves you're confident because you're going out on a limb and you're saying, "I'm somebody worth getting to know better. I'm a good catch. I'm not afraid of rejection." It proves you're humble too because when you go out on a limb, we know that you are taking the risk that you'll be rejected, which is a humbling experience. It's a risk that all real men put themselves through. It's a jab in the chest; yes, but honorable. We take note of your courage; believe me. You can read about how to approach a woman.
And the First and Most Important Task: You Have to Get Off the Computer.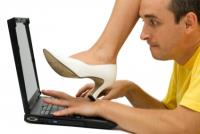 It sounds simple right? But how many guys hide behind their computer in order to avoid possible face-to-face rejection? The best things in life involve risk. And typically, the greater the risk, the greater the outcome. You can use your computer to meet people, but the sooner you make it a face-to-face contact, the better. It proves you have nothing to hide. (There goes the confidence aspect again) It proves you're courageous because a real meeting is scary. You both don't know what's in store, but you're man enough to take it to that next level because that's what a real date is. That's how a real relationship begins.Plenty of Fish is a great free site. Now you have no excuse! And if you want to meet people without the pressure of romance in the mix, sign up at meetup.com and mix and mingle with people who have common interests. If neither of these appeals to you, you can post something on Craigslist and respond to some ads.

Always put a picture up. Women have reason to not want to put a picture up. We have to deal with more safety issues. Men really don't have any excuse. Feel free to email me if you want me to check out the picture before you put it up. I'd be honored to give you my kind but honest opinion. I can give you great tips on how to put up a good picture. Or, you can read my article here.




If you don't want to meet someone online, you must be "in circulation." What do I mean by that? You have to be in the mix of things. If there isn't someone on your radar right now, the only sensible thing is to get out of your comfort zone, get out of your close circle of friends, and meet new people. This is something that you have to be proactive about. Here are some good places to meet women:

Art museums
Cooking Classes
Yoga Classes
Dance Classes
Dog Parks
Bookstores
Volunteer places:  During the holidays you can volunteer at soup kitchens or do gift-wrapping with programs like Toys for Tots. These places are usually packed with estrogen.

You can read about how to know if a girl is interested before you ask for a number.
Or you can ask your friends if there is anyone they can hook you up with. Many couples meet through mutual friends. I know a couple who married their blind date!
The important thing is to realize that if you want to be with someone this holiday season… if you don't want to ring in the New Year without that midnight kiss, the only person who's stopping you is yourself. If you get rejected and you move on, you're my hero. Remember, it's a number's game. You have to treat it like a game.
Every time you play Halo, you don't expect to win every single time unless you're a "pwn star," (and if you're a pwn star, you don't get that way without practice), and you don't beat yourself up and think it's personal when you lose. You just get back on and keep playing, because you know you're going to win again. That's how you have to view dating girls. We want to have someone special to kiss on New Year's Eve too! So get off your computer and come find us!

… And if you're a Christian hacker, how you doin? 😉
Midori
at
datingadvicefromagirl.com
---