Many people reading this are lone bloggers or – as I like to call them – "armies of one." You manage the server, design the site, code the template, write posts, network with other bloggers, and market the blog. If you're like me, grammar is kind of on the backburner. Since, I can't really afford the price of hiring a full-fledged editor/proofreader or the time required to reread my articles an indefinite number of times, my dependence on the grammar check function is a bit more than recommended by most college professors.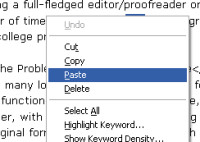 The Problem with Plain Copy & Paste
I know many lone bloggers who write and format posts on Microsoft Word just for the spell/grammar check function. After they finish an article, they port the post to WordPress using copy/paste. However, with this method, the formatting gets either skewed in the visual WordPress Editor – since the original formatting is in Microsoft's rich text format – or lost in the plain-text HTML WordPress editor. Trust me, its not fun ALT+TAB alternating between Word and WordPress windows trying to synchronize the formatting. Because of this, I personally prefer to write my posts in raw HTML. I think it's a control issue.