If you're an avid Digg reader like me, you're fully aware of the "who blogged this?" feature prominently displayed "above the fold" of each story. Among my three blogs, I've been meaning to publish posts inspired by the many stories that I read each week. As a matter of fact, I have a near-ten-page list of articles that I plan to write, most of them inspired by Digg stories. But, I haven't had the time to actually put those ideas into words. Until now …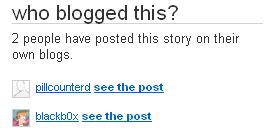 Today, I released an article about Bug Me Not in my Information Bank Blog. I remember finding out about this godsend website from Digg. Naturally, I wanted a link back from Digg on the "who blogged this?" section since it was a relevant post. So, I entered all the necessary blog data information in my profile page. Then, I clicked the "blog this" link on the corresponding digg story and pressed "Submit."
Error Message
I was greeted with an ominous message displayed on a plain-Jane template-style-less digg page.
There was an error posting your item – transport error – HTTP status code was not 200
Initial Suspicions
Naturally, I rechecked (about 20 times) my account settings to see if I entered my blog information and login incorrectly. But, nothing would help. The confusing behavior of the "blog preferences" function did not make things any better. I could not get digg to change "url of xml-rpc for blog" or "blogapi" for anything! "blog api" would always stay "metaweblog" and "url of xml-rpc for blog" would always stay the actual URL of my blog's homepage. (Later, I would find out that it is pretty much impossible to change these values if using a WordPress-based blog.)
Comparing Code
How did all of these other people get listed in "who blogged this?" What better place to find out than their code! I deduced that people on blogger and blogspot had no trouble getting links back from digg. Very few other blog platforms were listed. Though, I found one unique similarity with the scarce WordPress blogs. Their directory setup had the WordPress system files located on the root of the blog!
For example, their xmlrpc.php file paths were:
http://www.domainname.com/xmlrpc.php
While my xmlrpc.php file path was:
http://www.domainname.com/wordpress/xmlrpc.php
Traffic Statistics Analysis
I checked my traffic logs to see if digg was not searching in the "wordpress" folder. I found out that it wasn't. I also discovered a bunch of 404 Page Not Found errors in the logs.
That led me to conclude that if you're using WordPress, digg assumes the xmlrpc.php file is in the same directory as the index.html file, which is not necessarily always in the "wordpress" folder!
Workaround
Finally … the fix! Since digg looks for xmlrpc.php in the root folder of the blog, you have one of two options.
Do not separate wordpress system files from the blog root.
Create a copy of the xmlrpc.php
I like the latter option. It is much easier.
Simply copy xmlrpc.php from the "wordpress" folder to the blog root folder (which is usually the parent directory).
Then change


include('./wp-config.php');

to

include('./wordpress/wp-config.php');

or whatever you named your folder. In my version, 2.0.2, it is line 12.
Conclusion
I hope the digg coders correct this glitch. Maybe if this article gets to the front page, this bug will become high priority. But until then, use this fix!
Update: Welcome to all of the digg.com users! Thanks for digging and for coming to my site.
---