Have you ever watched a free clip from Google Video and wanted to download it only to find out that Google only lets you download the clip in a proprietary unmanageable format? I have!
Robot Chicken
In fact, this happened to me a couple of days ago. I saw this hilarious political comedy sketch from the TV show Robot Chicken ([adult swim] network) on Google Video. I wanted to put that clip on my MySpace profile. But, I would need to obtain it as an AVI format first. There is no free way I know of to convert Google Video files so I had to find a loophole.
Digg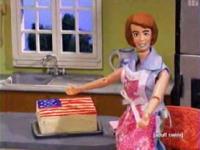 From Digg, I discovered an obscure blog that will give you the address to the source AVI directly from Google Video! However, there were a couple of annoyances.
The site is about as slow as molasses
It is often down
It is littered with ads (IMHO)
The blog is hosted by a terrible company
Despite those annoyances, it got the job done for me! See the funny clip on my MySpace Profile!
---