As a hacker, I have to program my remote web server to automatically perform routine tasks for me. It's a whole lot easier and cheaper to rely on my web hosting company to manage an always-on server. For starters, I don't have to pay for the 24/7 electricity the on-call technician!
To make the server perform an automated task in a Linux or Unix environment, you need to schedule a cron job. I won't go through all the details of setting it up in shell terminal since most people do not have remote shell access. You can read about the details more at the cron and crontab Wikipedia articles. Most of us deal with an interface on the cPanel that looks kind of like one of these two screens.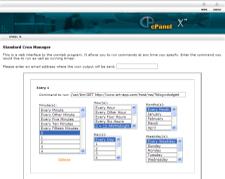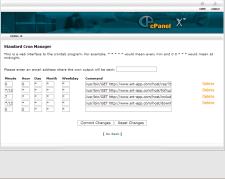 Do I Run the PHP Text File or a Program?
Scheduling can be easy enough if you follow the on-screen instructions. But when the form prompts you for the command what do you input? The first impulse would just be to feed the URL or file path of the PHP file to cron. That will not work. To cron and to Linux, a PHP file is just a simple text file. Cron needs a program to parse, interpret, and run the commands in the text file. In a cron job, you need to specify a script or an executable file to run. That's easy enough if you know how to write Unix scripts. But, I sure do not have any idea! I only know how to program in PHP, HTML, JavaScript, and a little C/C++. For web programmers with the knowledge of modern server side scripting like PHP, there is hope.
There are three ways you can do this. The first way is to actually call the PHP interpreter binary to run the PHP script. The second way is to call a text-based browser for terminal environments. The last way is to call an HTTP retriever. To see which one works for you, create a PHP file that emails your Inbox when it is successfully executed.
PHP:
mail

(

"my@email.com"

,

"Cron Successful!"

,

"Hello World!"

)

;
PHP Interpreter
This will only work if your server parses PHP files as a CGI directive. That is, PHP is not installed as an Apache module. Most newer web server setups utilize PHP via the Apache module since it is a more secure setup. Therefore, this may not apply to you. If you want to test it out, cron the above PHP script with this:
/path/to/php /path/to/your/cron.php
or
/path/to/php http://www.mydomain.com/path/to/your/cron.php
Text Browser
If referring to the PHP interpreter does not work, you will need to call a text web browser to open the file, thus forcing the HTTP daemon to run the script. There are many text browsers out there. The most popular one is Lynx. It should be included on most *nix environments.
/path/to/lynx http://www.mydomain.com/path/to/your/cron.php
HTTP Retrievers
Apparently, my web host removed the lynx command so I was forced to look elsewhere. My last resort was HTTP retrievers like "get" and "wget." Basically, these binaries "get" the file from the HTTP daemon like text browsers and usually save it somewhere.
/path/to/get http://www.mydomain.com/path/to/your/cron.php
or
/path/to/wget http://www.mydomain.com/path/to/your/cron.php
Good luck! If you have any question or suggestions, please leave a comment!
---