I love the United States Postal Service (USPS) advertising campaign. It targets online small business owners and home entrepreneurs. So many times I am reminded of the benefits of using USPS: schedule a pickup, print labels online, buy supplies online, order free Priority and Express Mail supplies online, etc. But there is something lacking in one particular feature. USPS offers users the convenience to print and pay for postage online. The only caveat is that you can only purchase postage for (the more expensive) Priority and Express Mail. They leave out First Class, Media, and Parcel Post Shipping, which are the budget shipping options. If an eBay seller wants to maximize the profit of an auction he or she will ship with the lowest possible rate. USPS does not let us do this!


Alternatives
There are other alternatives that allow you to print both premium and budget postage online. Pitney Bowes and Stamps.com are the most notable. However, in addition to the cost of the postage itself, these companies also charge a monthly usage fee. Unless you ship more than 50 items, this expense is just another financial burden.
PayPal


In 2005, PayPal partnered with Pitney Bowes to encourage more eBay sellers to accept online payments through its service. This was a godsend for sellers like me! Basically, the service allowed them to buy any type of domestic and Canada postage online without any monthly fee. The only limitation was that parcel recipients had to have sent you money. For example, I could buy postage for sending a package to a buyer who just paid me via PayPal. On the other hand, I could not buy postage for sending a parcel to my mom. She would have to first send me money - regardless of the amount - and then I could mail her my gift.

PayPal Shipping Hack
However, PayPal's way of limiting postage recipients is not foolproof. I read about this hack in the FatWallet Forums.There is a way of circumventing that "whitelist." The URL of the PayPal postage page is a long complex string composed of a "cmd," "info," "return," and "whence" variable. The only thing I understand from that is the "cmd". With this variable, I assume that PayPal communicates between views the general page of what we are supposed to see. Any additional variables would just be specifics to make the page more meaningful. For example, if you go to "My Account." There is one variable, "cmd." Its value is "_account."
Suppose we take the URL string for the postage field and only transmit the "cmd" variable. The URL will look like this:
CODE:
https:

//www.paypal.com/us/cgi-bin/webscr?cmd=_ship-now
Just copy and paste this URL in the address bar. Sometimes, Paypal will first prompt your for your login information. When you finally visit the postage page, you are greeted with form where you can specify the recipient. Here's a before and after of this mini hack.
Before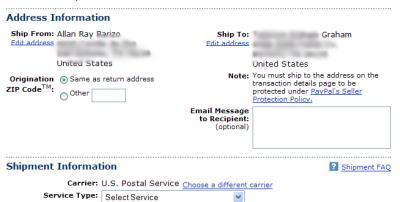 After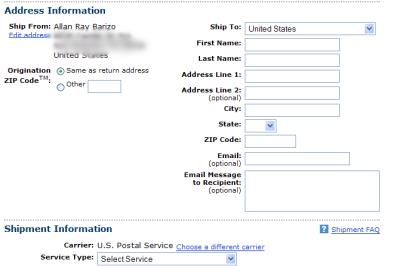 Now, you will never have to make a trip to the post office!
---